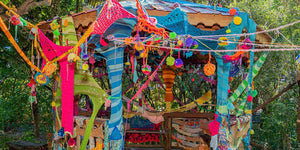 The InterKnit; connecting individuals to the literal world wide "web" through stitches, knots, knit, crochet, and pom-poms.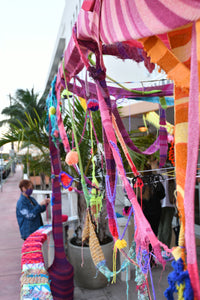 THE INTERKNIT 2.0 @ LOVE BURN
What an amazing experience and adventure we had! Karelle and Melodie collaborated on a fun fantastic yarn explosion of an installation! They welcomed all the volunteers to their area and taught so many people to pom pom crochet and knit! They added their "code" aka stitches throughout the weekend.
THE LOVE BURN
Blog
---
2017 - Karelle was commissioned by the World Happiness Summit to make an interactive installation that would invite participants to knit, crochet and make pom poms and add their stitches to...